'ieCafe' is stands for Internet Explorer Cafe.
Opened its doors in January 1st, 1998.
Located at: Jln. KendangSari Dalam no.60
Surabaya 60292
Jawa-Timur, INDONESIA
E-Mail : Ronald@ieCaf.co.id
URL : http://iecafe60.tripod.com/

We offers a high speed Internet access, computer training, World Wide Web development services, consulting, on-site computer support, and of course great coffee.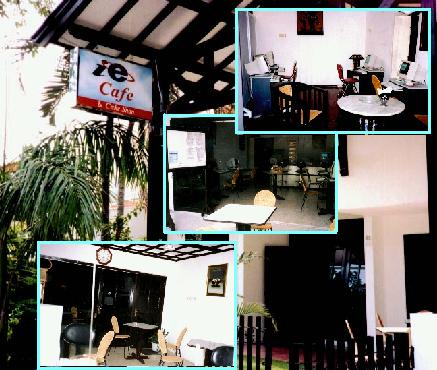 The Cafe facility is furnished with 15 computers running Windows 95, available for public use. All the computers are connected to the Internet over a high speed Digital ISDN connection. The computers are loaded with the most popular Internet software and other applications. One of the computer is equipped with a printer. The computer time is reasonably priced and there is always a friendly staff member available to help customers get started or answer a few questions.

'ieCafe' offers you an Internet World Wide Web site design and more. One-on-one training is also available for individuals who need a bit more personalized attention.
'ieCafe' WWW site design division is called
"CV.Lembah Hijau"